So many emotions during our last Board meeting on 16 May 2023 😊
On this day, we approved 6 new projects, including 5 French projects and 1 Polish project. The beneficiaries are diverse: children and women with cancer; senior citizens; disadvantaged young people; young people with disabilities; refugees and the long-term unemployed.
Find out more about the different projects below:
AOPA 2 – A breath of fresh air for children with cancer
We are very proud to have been able to renew our support for this French project, which has been run since 2008 by the Decathlon teams in Ste Luce. The aim of the project is to support and accompany more than 200 children suffering from cancer, during and after their treatment, both in and out of hospital, through the benefits of sport.
On the move at EHPAD
Supported by the Maison Saint Jean and teammates from the Decathlon Campus store, this project aims to stimulate and preserve the motor and cognitive functions and social links of residents at the Ehpad in Lille. Physical activity encourages movement and coordination and improves residents' motor skills. These are all benefits that promote independence and well-being. For this project, the Decathlon Foundation is funding the fitting out of the Ehpad's garden with sports equipment, to enable residents to engage in regular physical activity outdoors.
La Cordée school
This is the first Foundation project run by a retired Decathlon employee in Roubaix, in the Hauts de France region. The aim of La Cordée is to combat school failure and inequality among disadvantaged pupils. The sports project is part of an overall approach aimed at providing an education that fosters fraternity, life skills and concern for the common good. Sport will help to enrich and enhance pupils' academic careers, and thus their success.

The Amazons go further!
Supported by the Decathlon Mulhouse teams and the "En avant les amazones" association, this project aims to enable more than 100 women affected by cancer to support, help and surpass themselves through sport. Practising adapted sport during treatment reduces the negative effects and reduces the risk of recurrence. Outings such as hiking, cycling and yoga are regularly organised with these women.


Sport & inclusion: saddling up for a new start
This innovative project is being run by teams from Decathlon la Madeleine and the Carton Plein association, and is aimed at people living in very precarious conditions (vagrants, refugees, victims of violence and the long-term unemployed). The main aim is to improve the social and professional integration of people living on the margins of society by getting them back into the swing of things through sport, an introduction to cycling and the cyclo-logistics industry. To achieve this, the second objective is to create social links between decathletes and Carton Plein beneficiaries by setting up collective sports activities and skills exchanges.
Field of dreams
Through the construction of a multi-sports field, this Polish project aims to make sport accessible to more than 1,000 disadvantaged children (disabled, refugees, orphans, socially excluded). Regular football sessions will be organised, as well as holiday camps, shop experience courses, etc.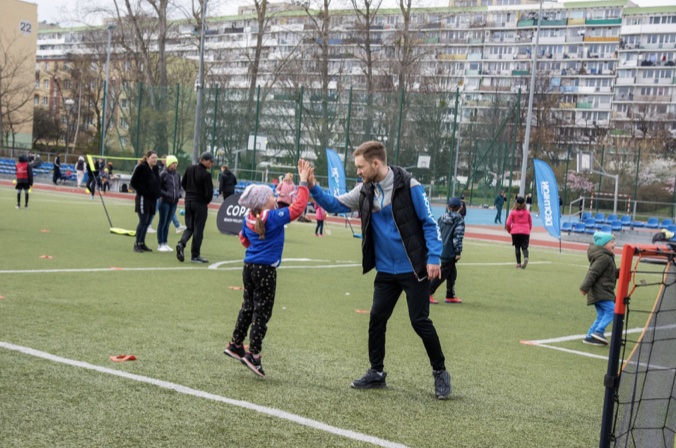 Discover our beautiful stories here or on instagram
19 June 2023